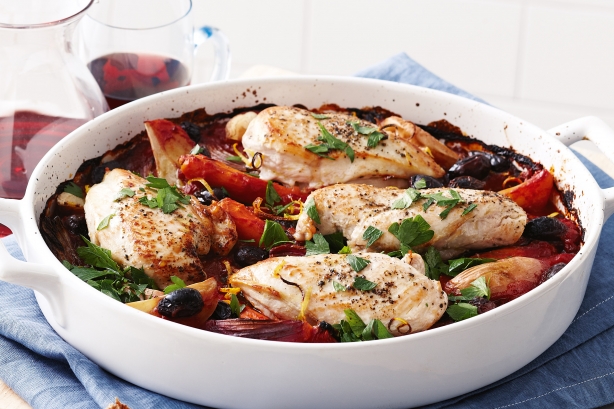 In under 60 mins create your own flavours of Italy with this yummy Baked Chicken Cacciatore!
A definite on the weekly dinner menu!
Ingredients
2x 400g cans Chopped Tomatoes with basil & garlic
 110g (2/3 cup) pitted kalamata olives
 1/2 cup finely chopped flat-leaf parsley
 2 small red onions, cut into wedges
 8 chantenay (small carrots)
2 small desiree potatoes, each cut into 6 wedges
 80ml (1/3 cup) olive oil
 4x 180g chicken breasts
 1 lemon, zest peeled into strips
 Crusty baguette (optional), to serve
Method
Step 1
Preheat oven to 180C fan-forced. Place tomatoes, olives and half the parsley in a large ovenproof dish, and stir to combine. Evenly place onions, carrots and potatoes on top of tomato mixture, then drizzle with 2 tablespoons oil. Season with salt and pepper. Bake for 20 minutes.
Step 2
Meanwhile, heat remaining 2 tablespoons oil in a frying pan over high heat. Cook chicken for 2 minutes each side or until golden. Place chicken on top of vegetables in dish, then bake for a further 12 minutes or until chicken is cooked through and vegetables are tender. Remove from oven and stand for 5 minutes.
Step 3
Divide among plates, then scatter over remaining parsley and lemon zest. Serve with crusty baguette, if using.